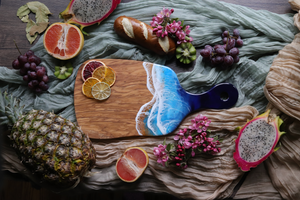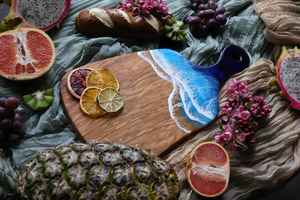 Ocean Inspired Cheeseboards 7/8
Ocean-themed resin charcuterie board created with a 3-layer pour made to imitate gorgeous frothy waves.
Perfect for serving charcuterie and small bites!
Approx. 15.5" x 7.5" x 3/4"
Made using olive wood which is very dense and durable compared to other wood. Because of this, it does not splinter and requires less maintenance! This premium wood also has a gorgeous natural grain which makes it super desirable.
To care for your board, please only serve on the wooden areas. Do not cut or serve on the resin. Please keep out of direct sunlight or extreme temperatures. Please hand wash with lukewarm water. Do not leave your board standing in water. If your board begins to show signs of wear, it can be restored with food-safe wood oil.