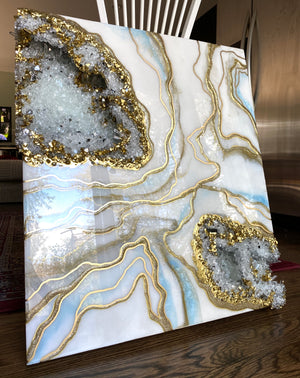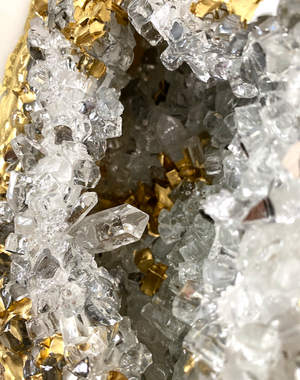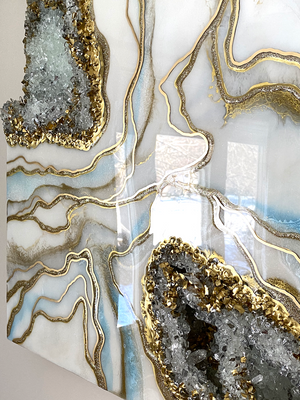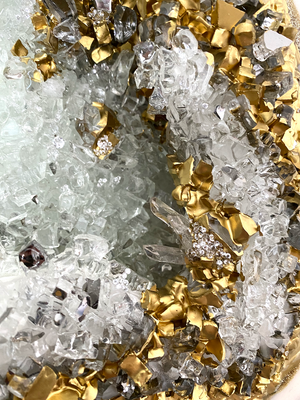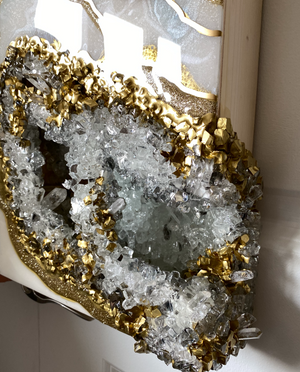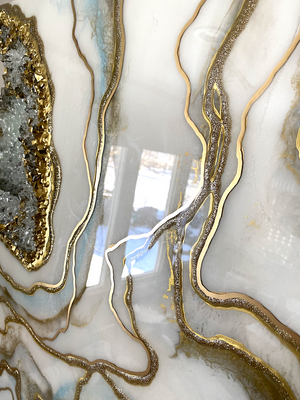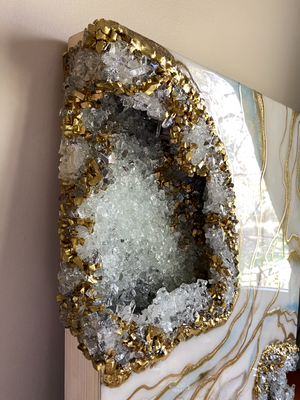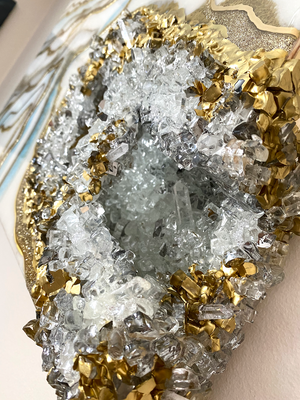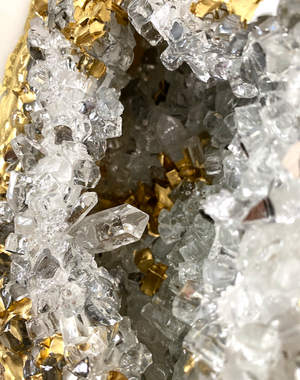 Sonder
I remember where I was when this design was born. It was 3am, I was in Colorado, and I had sunken into a sofa with my pen in hand. I was sketching an entirely different commission when this idea rushed to the surface, completely overriding my thoughts.

The idea for this painting centers around the druzy - the gems that wrap around my canvas. It is created with 24k gold leaf, a few thousand cubic zirconia, and genuine quartz points, however, my favorite part of this piece are the tiny quartz clusters I harvested from a geode.

If you remember, a few weeks ago I cracked open what looked like a regular stone. Gray and dull on the outside, but to my surprise, glowing with quartz on the inside.

I found it quite poetic. There's a parallel between this small discovery and ourselves.

The strangers you pass by on your way to work, the barista making your coffee, the clerk at DSW, are people you may never truly get to know, but dig deeper inside and you will find they're all rich of stories, culture, experiences, riddled in their own complexities and traumas.

For this reason, I named this piece Sonder. Sonder: (noun) the realization that each random passerby is living a life as vivid and complex as your own — populated with their own ambitions, friends, routines, worries and inherited craziness — an epic story that continues invisibly around you like an anthill sprawling deep underground, with elaborate passageways to thousands of other lives that you'll never know existed, in which you might appear only once, as an extra sipping coffee in the background, as a blur of traffic passing in the highway, as a lighted window in at dusk.

Products used: 24k gold leaf, over 3,000 cubic zirconia, hundreds of quartz clusters and over 35 quartz points.

24x28"
AVAILABLE IN MONTHLY INSTALLMENTS. Deposit is $200 plus shipping and $149.75 a month for 12 months. I will ship the painting after the initial deposit is paid. Please email dwobniski@gmail.com if you would like to select this option.