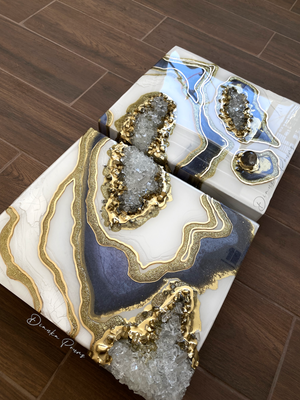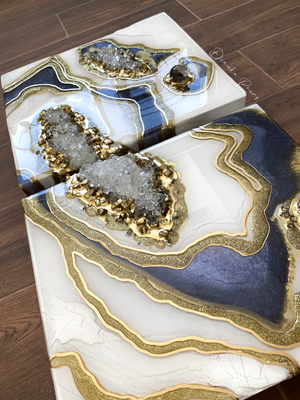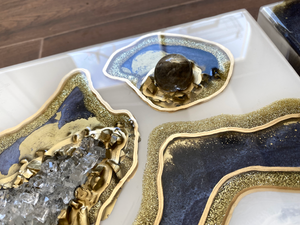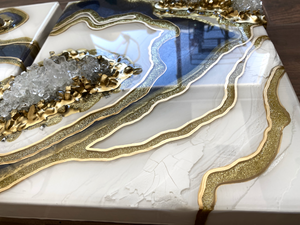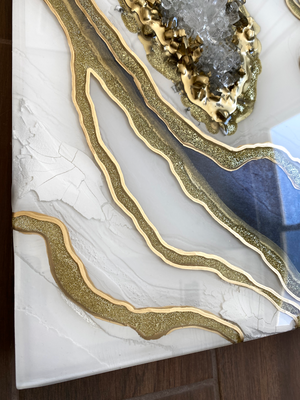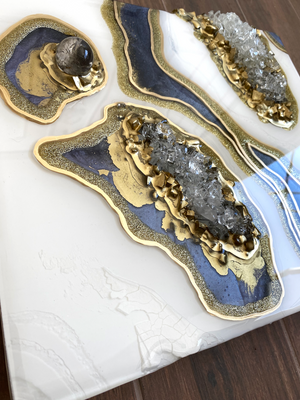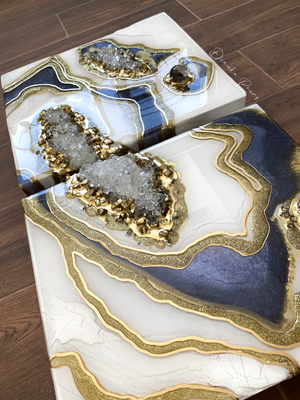 Satya Mani
Satya Mani is a two-piece painting created to resemble a purple geode. This artwork is created with stunning multi-violet tones paired with beautiful reflecting golds. It also includes gorgeous textured detail, giving it multi-dimensional charm. This painting has genuine quartz crystal points and a unique quartz sphere that makes it a true statement piece.
Satya Mani is a name derived from Sanskrit meaning 'gem of truth.' The Satya Mani Quartz "allows one to feel and understand one's inner truths and to have a heart-centered awareness towards oneself and others, thus bringing forth the energies of loving, kindness and compassion."
The stone is semi-transparent or milky white in appearance although it can be clear in places. This artwork has many intricate details that resemble the details in a Satya Mani.
Each piece is 11.75"x13.5" and together the painting is 11.75"x27".
A Certificate of Authenticity is included with the painting. Hangers are installed on the back of the piece.
Made by an epoxy resin pour. Epoxy resin is made using a clear, liquid adhesive that I bind with paint, glass and other materials. Using a blowtorch, I manipulate the resin to create different designs. The artwork then dries to create a gorgeous, glossy finish.