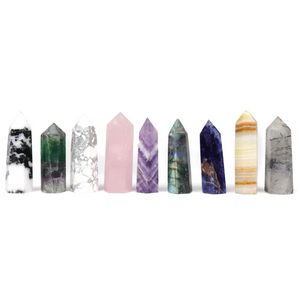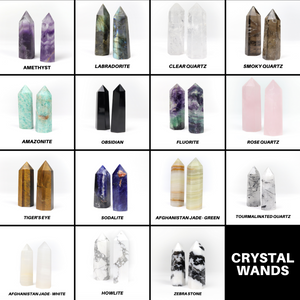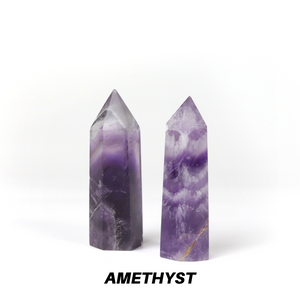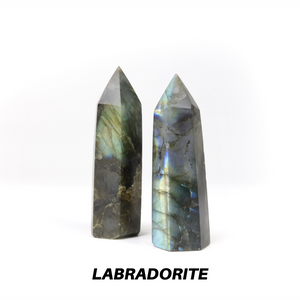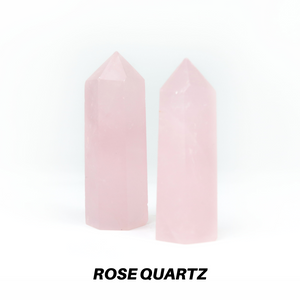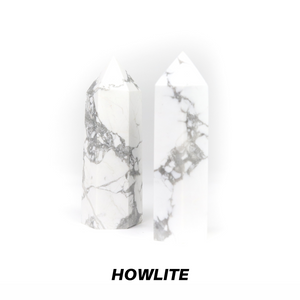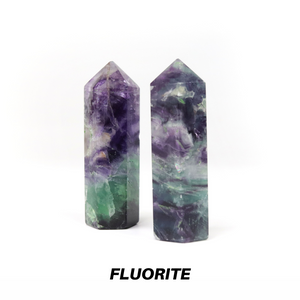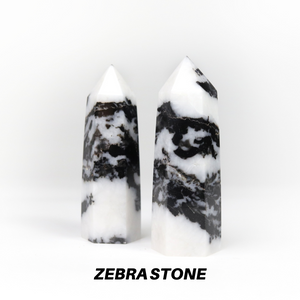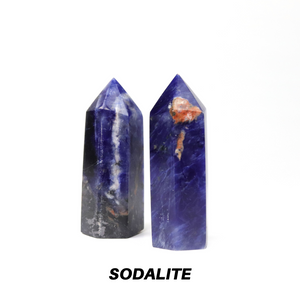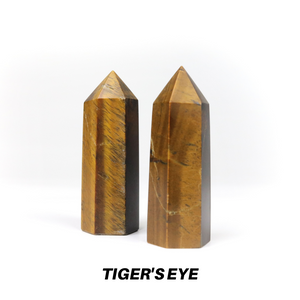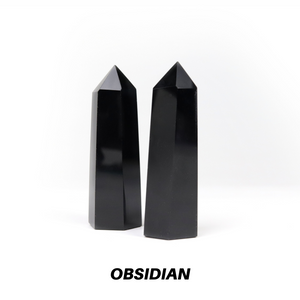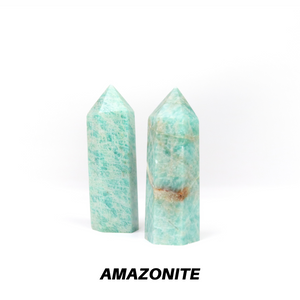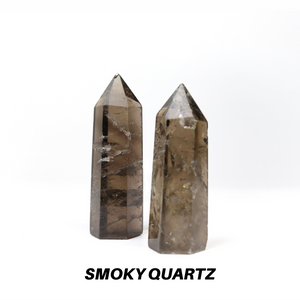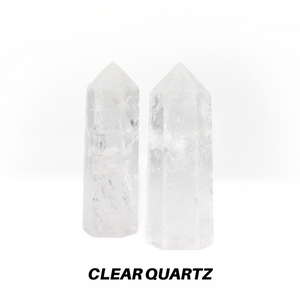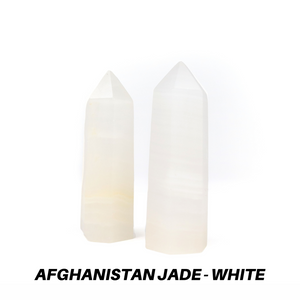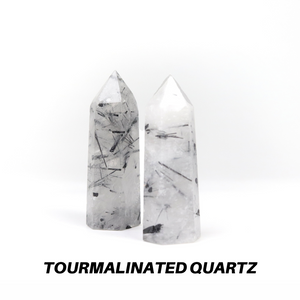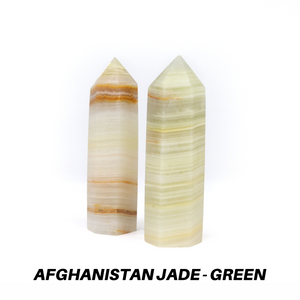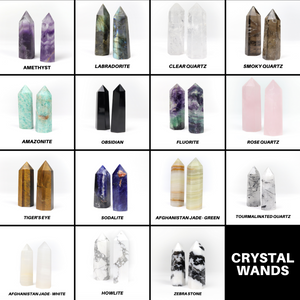 Crystal Points - 1 piece
These genuine Crystal Points are intended to enhance and elevate your geode artwork. Simply hot glue them to hold them into place and then resin the base of the Crystal Points to secure them into place.
Quartz wands healing properties
Amethyst - 'A stone of spiritual protection and purification. It relieves stress and sadness and fear. Amethyst activates spiritual awareness, opens intuition and enhances psychic abilities.'
Labradorite - 'The gemstone of magic. Awakens the one who wears it with abilities such as clairvoyance, telepathy, astral travel and access to Akashic records.
Rose Quartz - 'The pure stone of love for oneself, partner and family. This stone restores trust, harmony and healing.'
Howlite - ' Howlite strengthens memory and stimulates desire for knowledge and creativity. It teaches patience and helps to eliminate rage, pain and stress. A calming stone, Howlite calms communication, facilitates awareness and encourages emotional expression.'
Fluorite - 'Clears the atmosphere of confusion, cluttered thoughts, negativity and astral contamination. Fluorite balances the third eye and helps heal the chakras.'
Zebra Stone - 'It is very helpful in overcoming depression or anxiety. It helps us to see through illusions and get to grips with our problems, lending us the determination to overcome apathy and motivating us to put our ideas into action.'
Sodalite - Sodalite brings order and calmness to the mind. It encourages rational thought, objectivity, truth and intuition, along with verbalization of feelings. Sodalite brings emotional balance and calms panic attacks. It enhances self-esteem, self-acceptance and self-trust.'
Tiger's Eye - 'Tiger's Eye increases confidence and supports resilience in stressful situations. It gives strength, luck and positive energy in times of change and helps to retain perspective.'
Obsidian - 'Black Obsidian is a very powerful and creative stone.  It increases self-control.  It forces facing up to one's true self. Black Obsidian is protective and provides support during change.'

Amazonite - 'Amazonite awakens compassion through stimulation of the heart chakra. It can also empower us in manifesting our dreams and desires.'
Smoky Quartz - 'Smoky quartz is an incredible stone for grounding. It can also help with improving communication, manifesting dreams into reality and bringing about improved intuition.'
Clear Quartz - 'Quartz key properties are energy amplification, programmability and memory. Clear Quartz can amplify the intentions and thoughts of anyone who holds the crystal.' 
Afghanistan Jade, White and Green - 'Afghanistan Jade creates a protective shield to keep the negativity away from one's self and to keep the positiveness within. It constructs a soothing effect for the physical body and aligns with your heart chakra.'
Tourmalined Quartz - ' Tourmaline Quartz combines the properties of Tourmaline and Clear Quartz Crystal.  Tourmaline purifies ones own energies and protects from negativity, while Quartz amplifies energies focused through it.  This combination makes Tourmaline Quartz a powerful shield-stone that, depending on the desired intent of the wearer, can amplify and return negative energy, like a mirror spell, or can convert the negative energy into positive energy for the wearer.'
Please note, all crystals are about 2.25 - 2.5 inches in length.  Due to their nature, some quartz points may have slight color variation - it's what makes each quartz unique and beautiful!