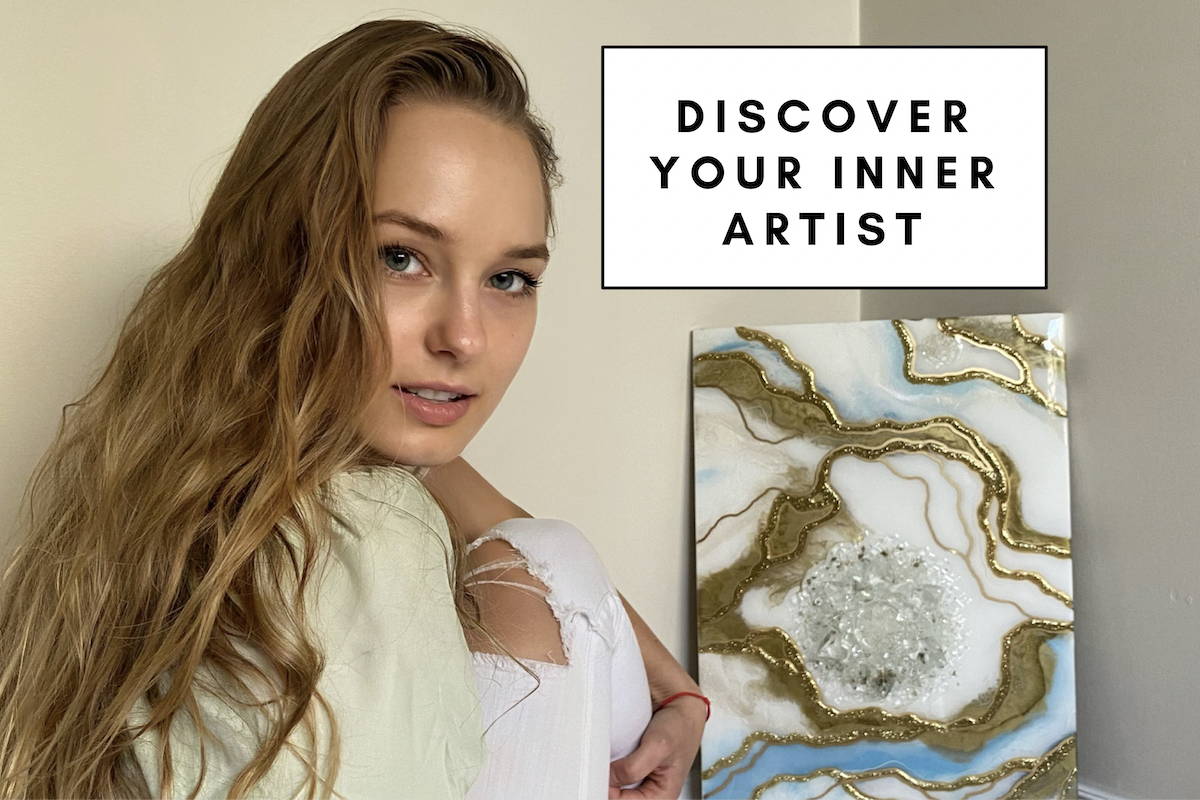 Learn to pour like a professional
LIMITED TIME 20% OFF using code: letspour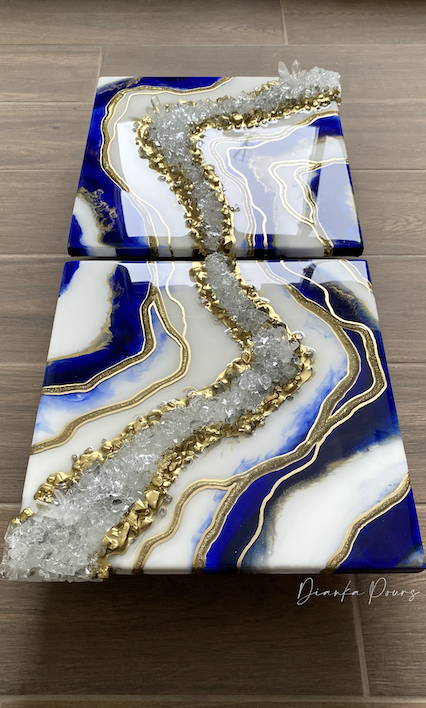 Simple, easy to learn techniques
Diana has condensed 7 years of mastering her skill in resin art into a 2 hour pre-recorded course. Save money and time by skipping the trail and error stage through this guided online program.
Diana has spent countless hours researching, experimenting and perfecting her technique. Through this process, she has gained a deep appreciation for the complexity and beauty of resin art and the unique possibilities that it offers. She is proud of the progress she made and the unique creations that she and her successfulstudents have brought to life through this medium.
Learn to pour stunning geodes... every time
This Geode Resin Art Course is a complete guide designed to give you a deeper understanding of geode resin art. It teaches how to create a timeless geode using techniques such as:
1) How & where to pour certain colors to create symmetry and balance
2) Exact placement of glitter lines to enhance details
3) What types of textured points to use and how to layer them to capture their sparkle
4) My secret to creating thin & clean glitter lines
5) Stages of detailed paint brush work
6) Marker line placement techniques
7) How to pair colors to keep your painting minimal, yet elegant
8) How to create depth and tips for layering
9) How to prep, prime, sand and hang your painting!
You will gain a deep understanding on how each layer is placed and how it affects the next. The material explained will not only teach you how to improve your geodes but how to problem solve and pour stunning geodes, every time.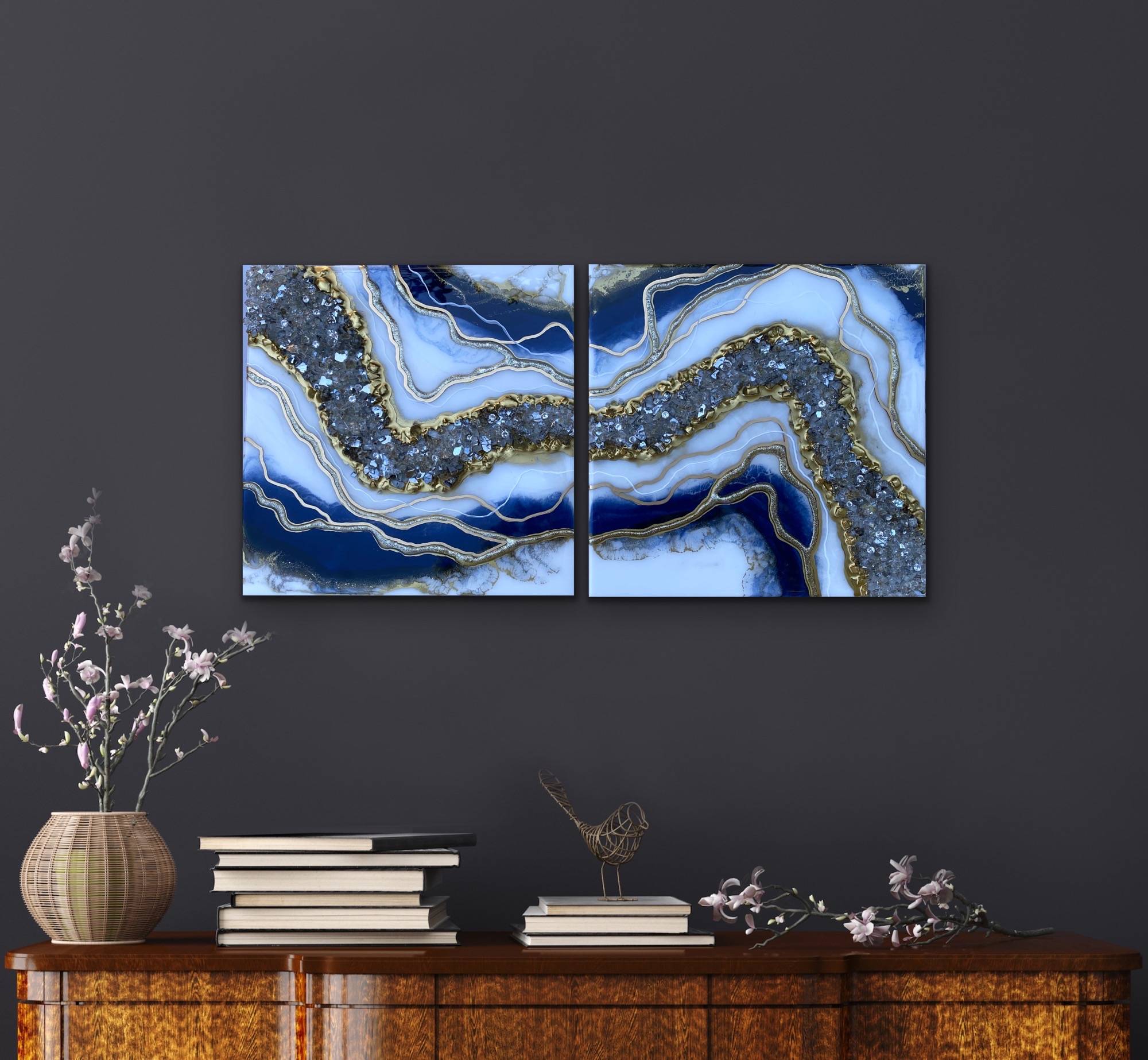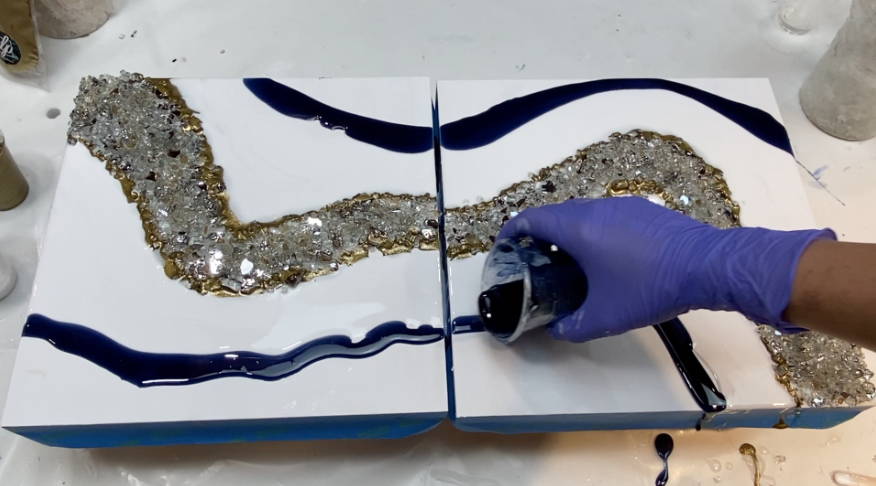 Learn my secret tips on where I place my resin on my panel and why. Create symmetry and balance in your pours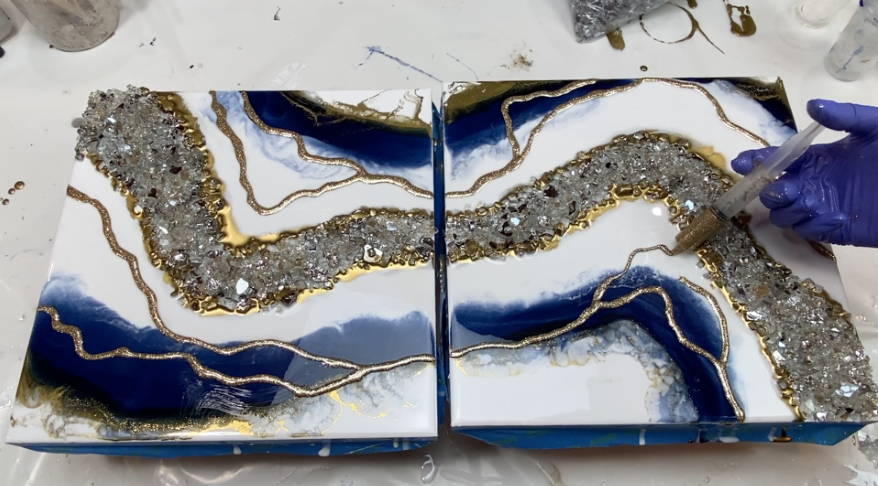 The beauty of geode art comes from layering the details. In this course, I reveal my secrets to creating stunning detail work and how every aspect of each layer affects the other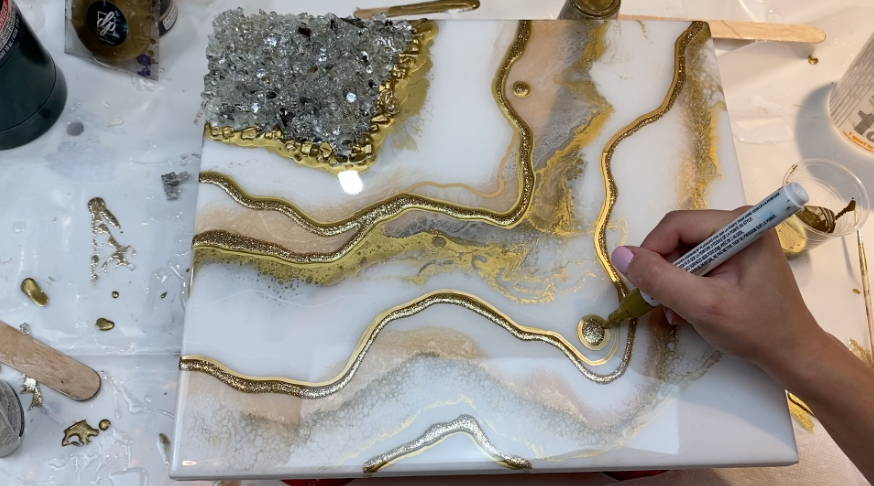 Enjoy this supplemental material added at the end of the course to help solidify your understanding of resin art!


What else you will receive
Special discount code for pigments, glitters, crystals, etc. on diankapours.com
Discount for MAS Epoxies resin
Access to a private facebook group with over 500 students
Certificate of completion form with your name printed on it


See what our students have to say!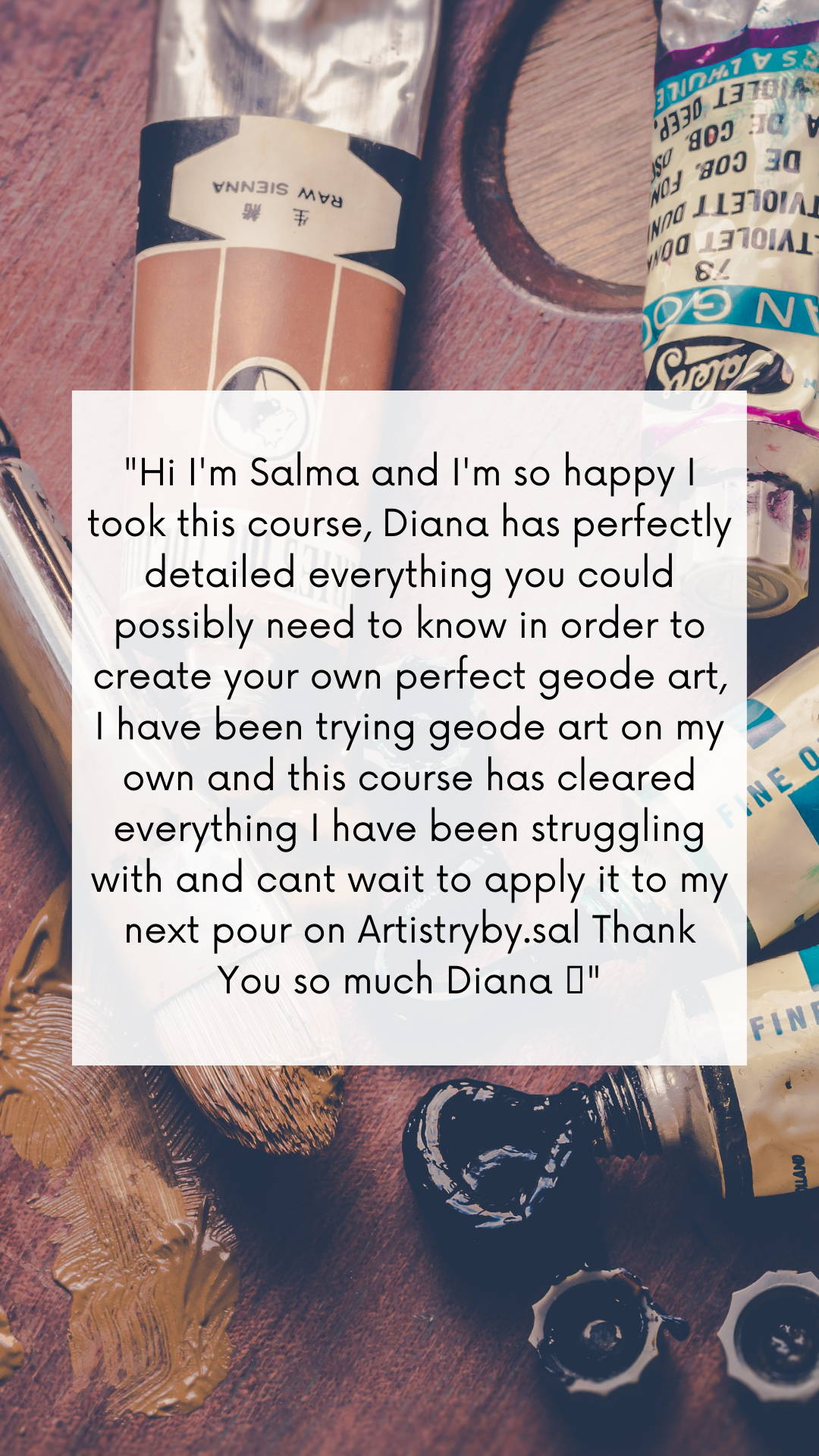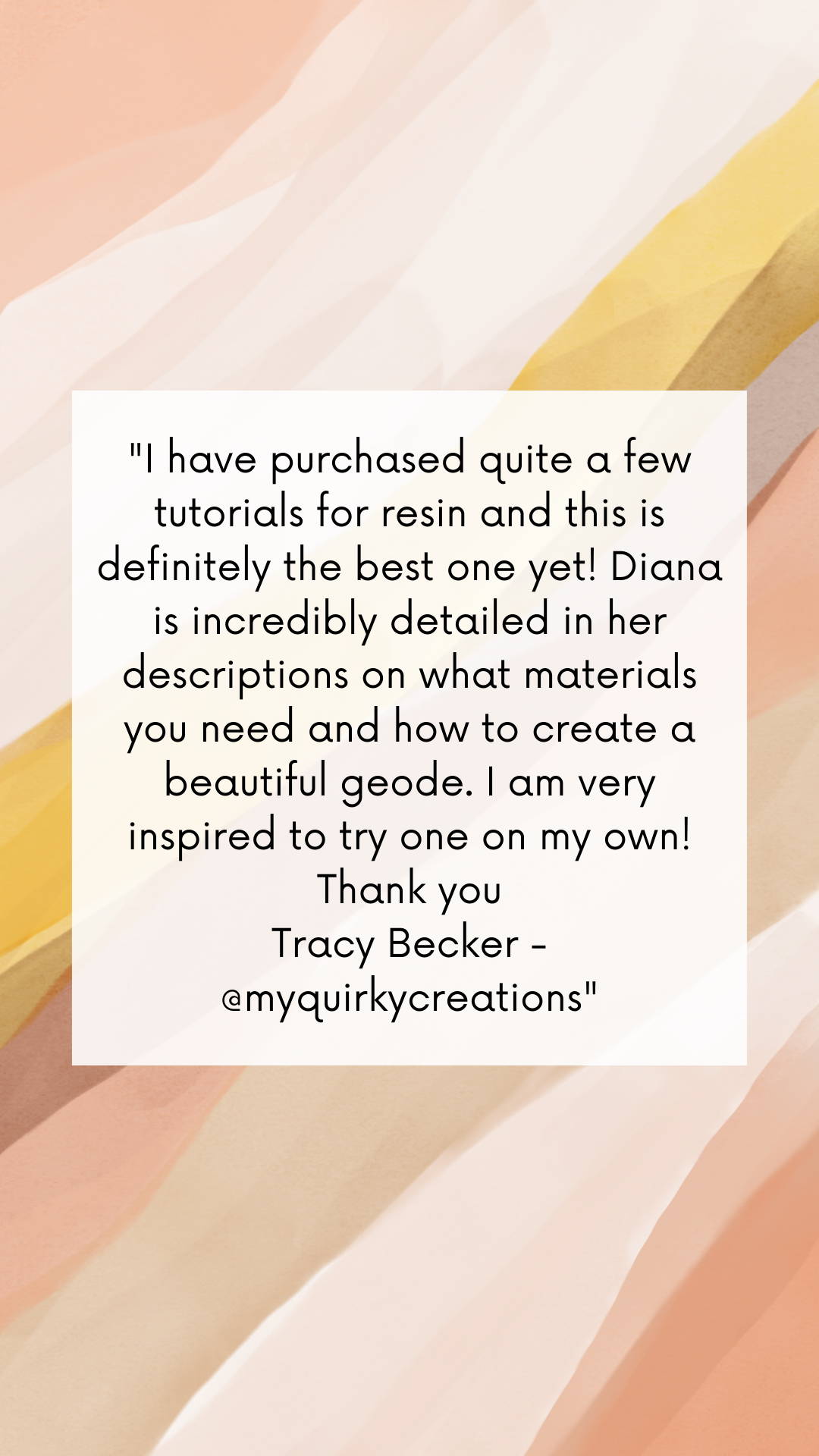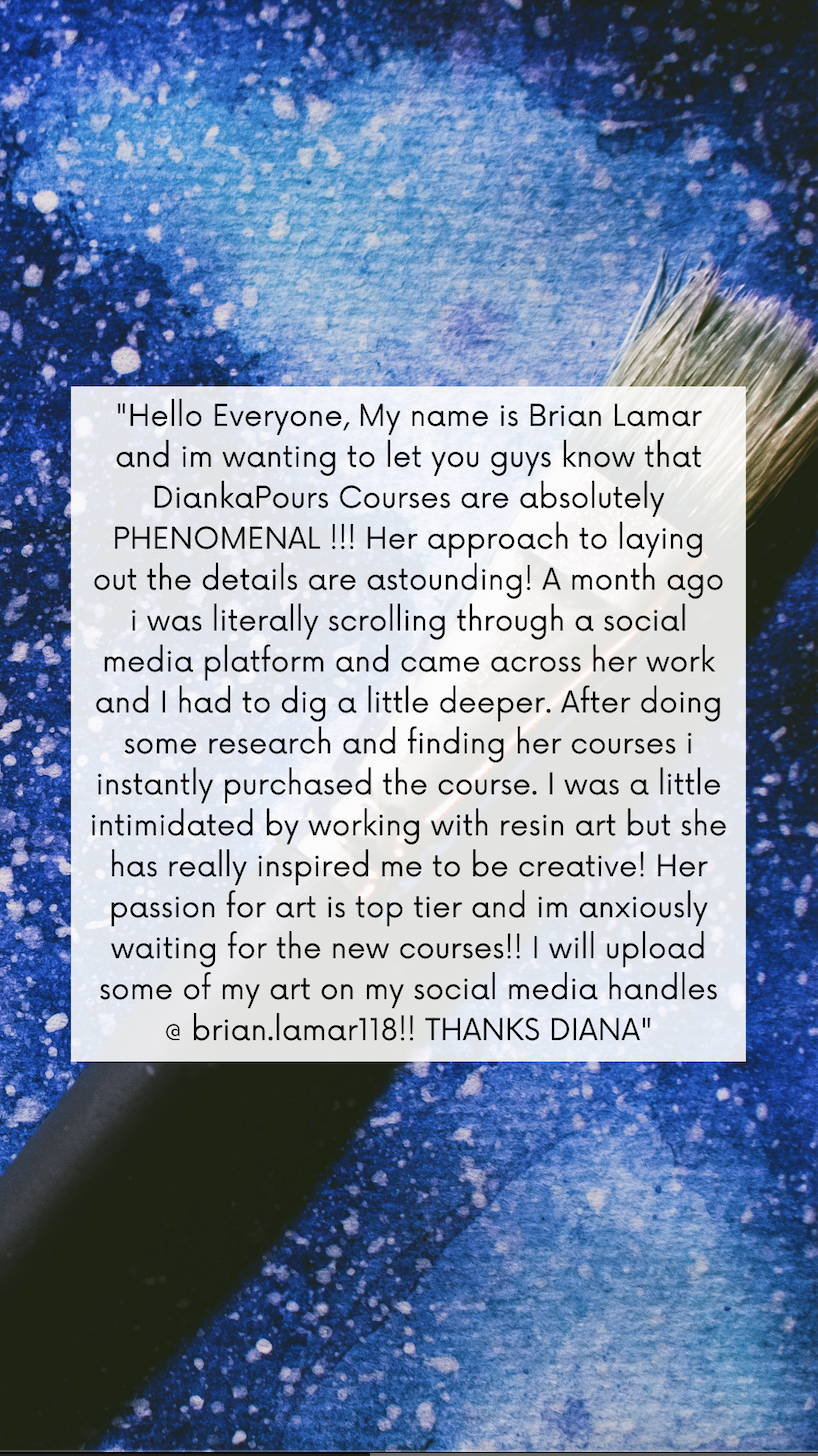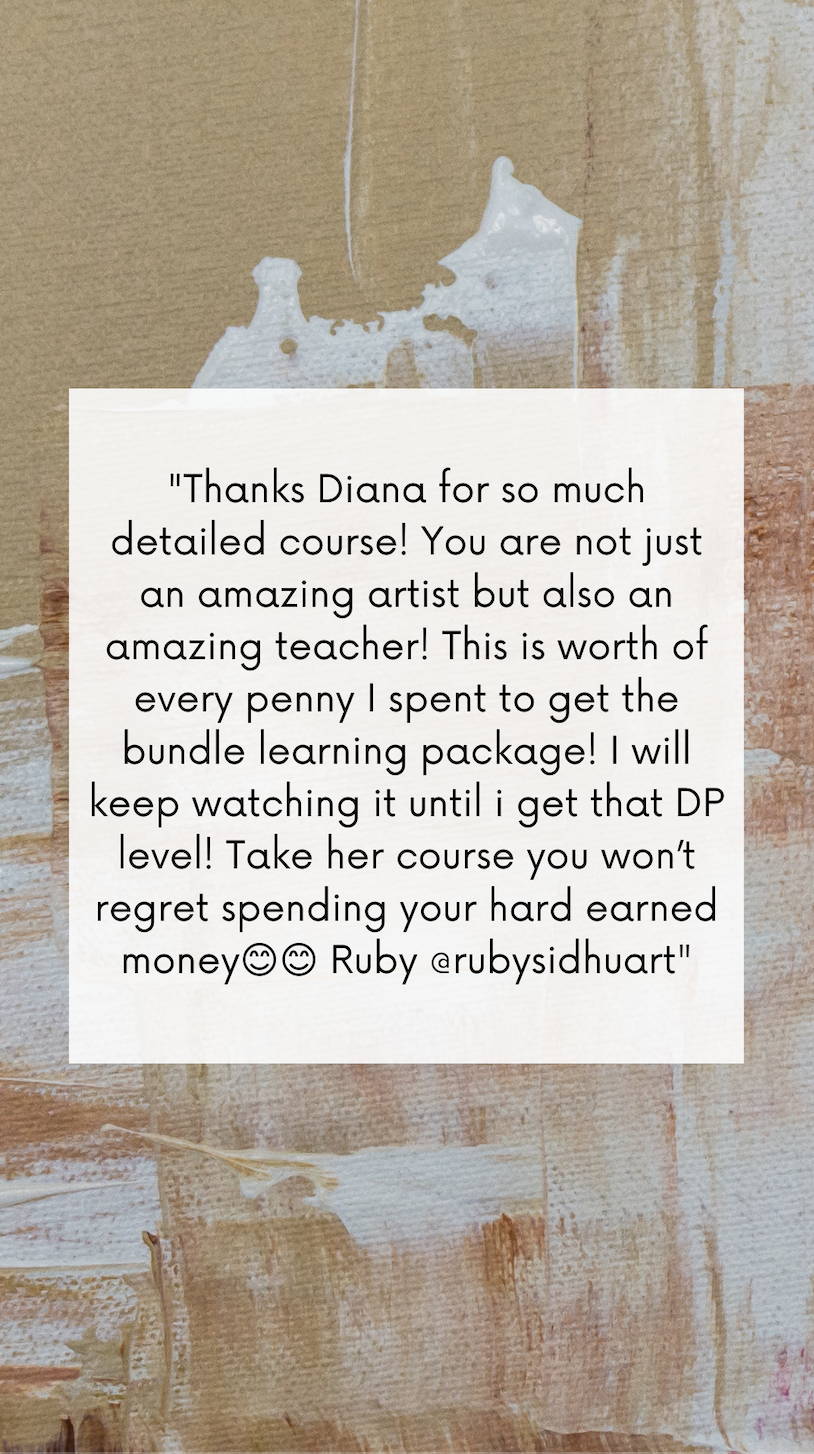 Frequently Asked Questions
Can I return to the course after I am done watching it?
Yes! The course is structured like a YouTube video.
Once you submit payment and gain access, you will immediately have the
course available to you. You can watch, re-wind and re-watch as
many times as you'd like. You can also leave and return at a later time.
How long do I have access to the course?
Access to the course does not expire! You are free to watch it
and return to it months down the road
How long is the course?
This is a two hour long course
Will I have access to the material list?
Yes, I go over materials needed in the course
What if I am unhappy with the course?
Our students are our number one priority. While I am confident
that you will love this course, contact us via email and
we will offer you a full refund.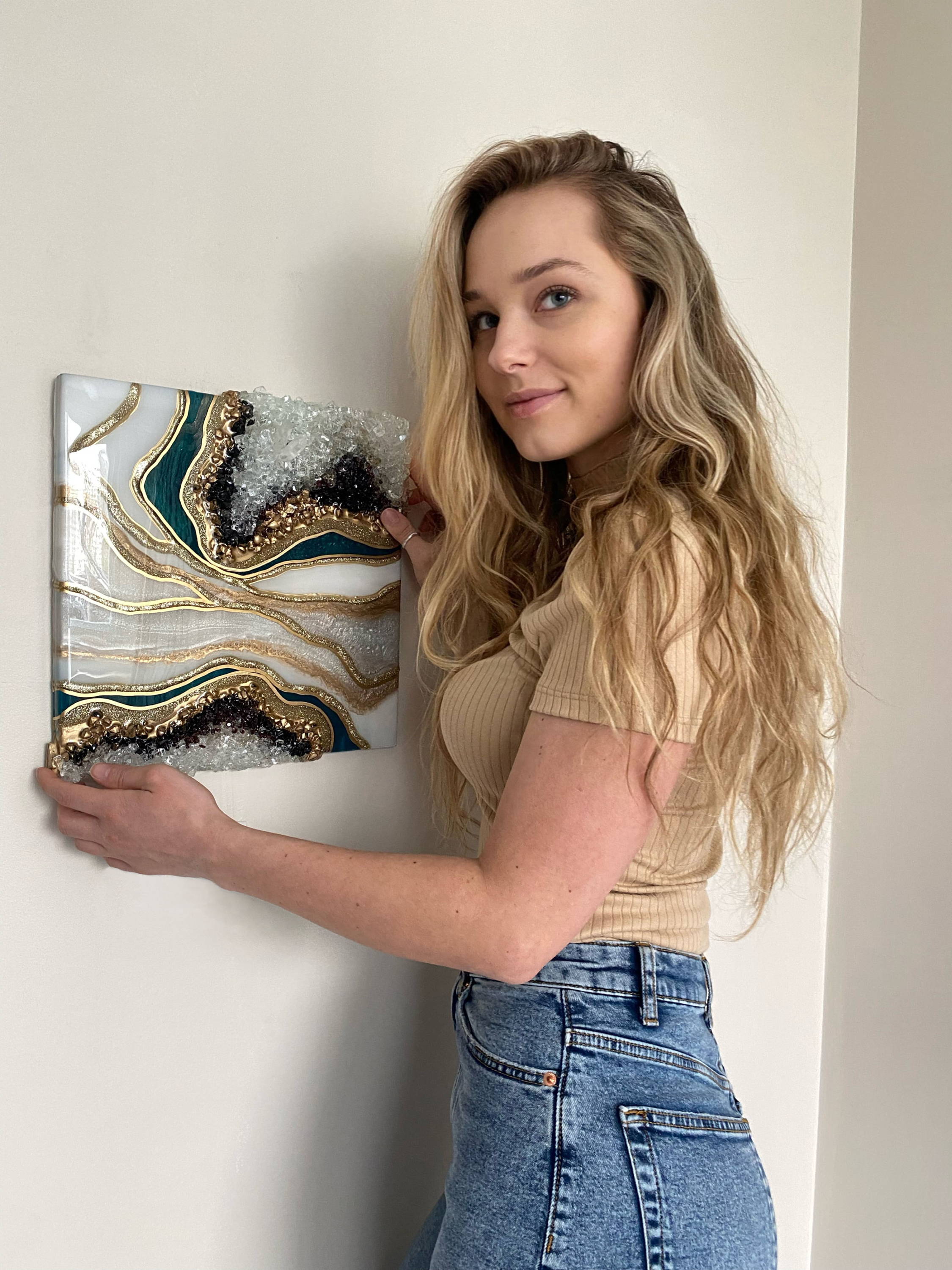 Four years ago, I spent a late summer night scrolling through the depths of YouTube. I came across some art channels, where I first discovered fluid art. I was so intrigued that I continued watching pouring videos when I stumbled upon resin art. I was in absolute awe. I hadn't seen anything like it. I was determined to watch every. single. YouTube. video at the time. And I did - it took me until 6am to do it. But I didn't find a single technique video or tutorial on how it was done. None! Believe it or not, four years ago, resin art was barely heard of. Not many people were playing with it, and the few that were, weren't willing to share how they did it. I messaged artists on Instagram, e-mailed them, and even started blog threads to no avail. Most replies were, "I learned on my own and spent the time and money, you should too." Understandably so. So I marched with my materials to my garage and probably spent more money on trial and error than anything else. But, I was stubborn and I was obsessed. Through time, I taught myself this art form and started sharing tutorials through my online platform. Many people ask me why I'm willing to share so much. Well, it's because not many artists helped me at the time and to the few that did, I was so extremely grateful. I told myself that when I figure this darn thing out, I would share it with the world! There's no holding back. Resin art is so beautiful, it doesn't need to be held as a trade secret.